Olle Waller is to most people known from television where he answered questions about sex and coexistence in the show "Fråga Olle" (Ask Olle) together with his colleague Martin Björk. In excess of his TV career he has been working as a teacher for many years and always been very committed to youths and did excessive work with informing and educating about the HIV virus during the 80:s. Now days Olle is also an appreciated lecturer and travel around Sweden to mediate his knowledge about sexual matters.
What one probably didn't know, is that Olle Waller was born in Degerfors, cousin to The Man with The red Horn Nisse Landgren, lives next to the Globe in Stockholm and still cheer for the local football team DIF…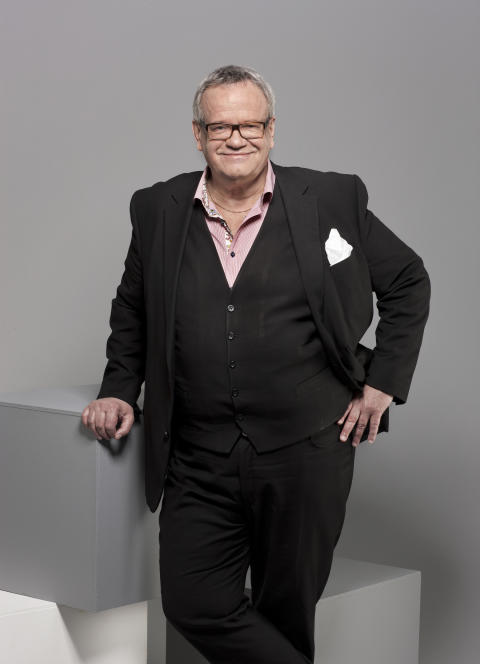 I have read that you started your career as a teacher, what were your subjects?
I worked as a remedial teacher during the 70: s and taught these difficult kids mostly Swedish, English and math's. They were very special these youths I worked with. I actually have had contact with a few of them as adults. Especially one young man that I used to chase down the corridors, he is today a very good journalist and recently med a long interview with me. At another occasion I was invited to my cousin Nisse and his wife Bea, and there's this man coming up to me and asked if I recognized him, it turned out to be one of the pranks I had as a pupil and he was now a successful business manager. It warms my heart to see that things have turned out good for them, certainly not on my behalf but it feels really good!
If you still lived in Degerfors and wasn't the successful informant regarding sexual matters and famous from TV, what do you think you would have been working with today?
Well, I think… it runs in the family, my grandfather and even further back in time the ironworks and metalworkers. Nisse's farther my uncle Karl-Erik, worked at the iron works. So I can very well believe that I would have ended up there. But I don't know, I like music and would like to think that I am quite good at that too. It is possible that something would have happened there, but I think I might have stayed in that way. I am no good at football, so I wouldn't have been a footballer in Degerfors. On the other hand you never know, I might have become a politician, there's Göran Hägglund (the former Minister of Health and Social Affairs) who's also from Degerfors… I used to be politically active on the left wing during the 70: s, so I could have become something like that. But my safe card will be the ironworks and probably within the union and some political assignments.
I moved from Degerfors when I was very young, but still have an emotional link. I used to spend the summers in Degerfors with my cousins, my grandparents and with my birth father who used to live at Degernäs in one of the wing buildings. He was a plumber. And these are the reasons I have returned to Degerfors all this time. I now live in the south part of Stockholm where everybody is cheering for the local football club Hammarby and when I'm asked which team I cheer for, I always say Degerfors, then there's a special reaction! DIF has been in the Swedish football super one leaguer for a while so they are not totally gone!
Degerfors has been and still is a small community of about 9,500 inhabitants. Why do you think there have been so many great profiles produced from here?
Well, I believe that Degerfors back then was substantially imprinted by music and football. In small towns where there's nothing much organized accept for the music within the music corps and the football, well perhaps at Tunet (laughter), that you have time to play music and dream. Both when it comes to music and sports, it is from the smaller communities you find the big profiles. One maybe doesn't have to major in anything but you have the opportunity to try different sports and so on. Nisse started with the drums but that wasn't his thing in the end, I believe it has to do with the playfulness and the relaxed atmosphere in a small town. There's a book called I Afton Landgrens that was written by Lisbeth Axelsson and Rolf Jansson a few years back that feature the family Landgren and their rich music life in and their rich music life in and outside of Degerfors.
Which one was the first LP record you bought?
I don't remember my first LP, but I do remember my first Ep and that was King Creole with Elvis Presley. We are talking about the 50: s and so King Creole it was, and it was during the time it was a sort of a war between Elvis and Tommy Steel fans, one had to cheer for the right idol. I remember at school you could be pushed up against the wall and asked, who do you listen to? Elvis or Tommy? I said Elvis and most of the time it was for the best, if you didn't want to get punched…