Power Metal in Swedish Design
ShadowQuest is a Swedish power metal band that finally will release their debut album containing ten new compositions together with one Judas Priest cover. All in an aggressive, modern and epic but classic genre. The album cover is something else and has already prior to the album's release received fantastic reviews from all over the music world.
The man behind the artwork is a private but yet colourful person with an ability to create emotional nuances out of the nothingness into something unpredictable and narrative. Svip.se met with the musician, composer and designer Mr. Thomas Holmstrand who currently designed the album cover for the Swedish metal act Shadowquest and their debut album Armoured IV Pain released January 26th, 2015.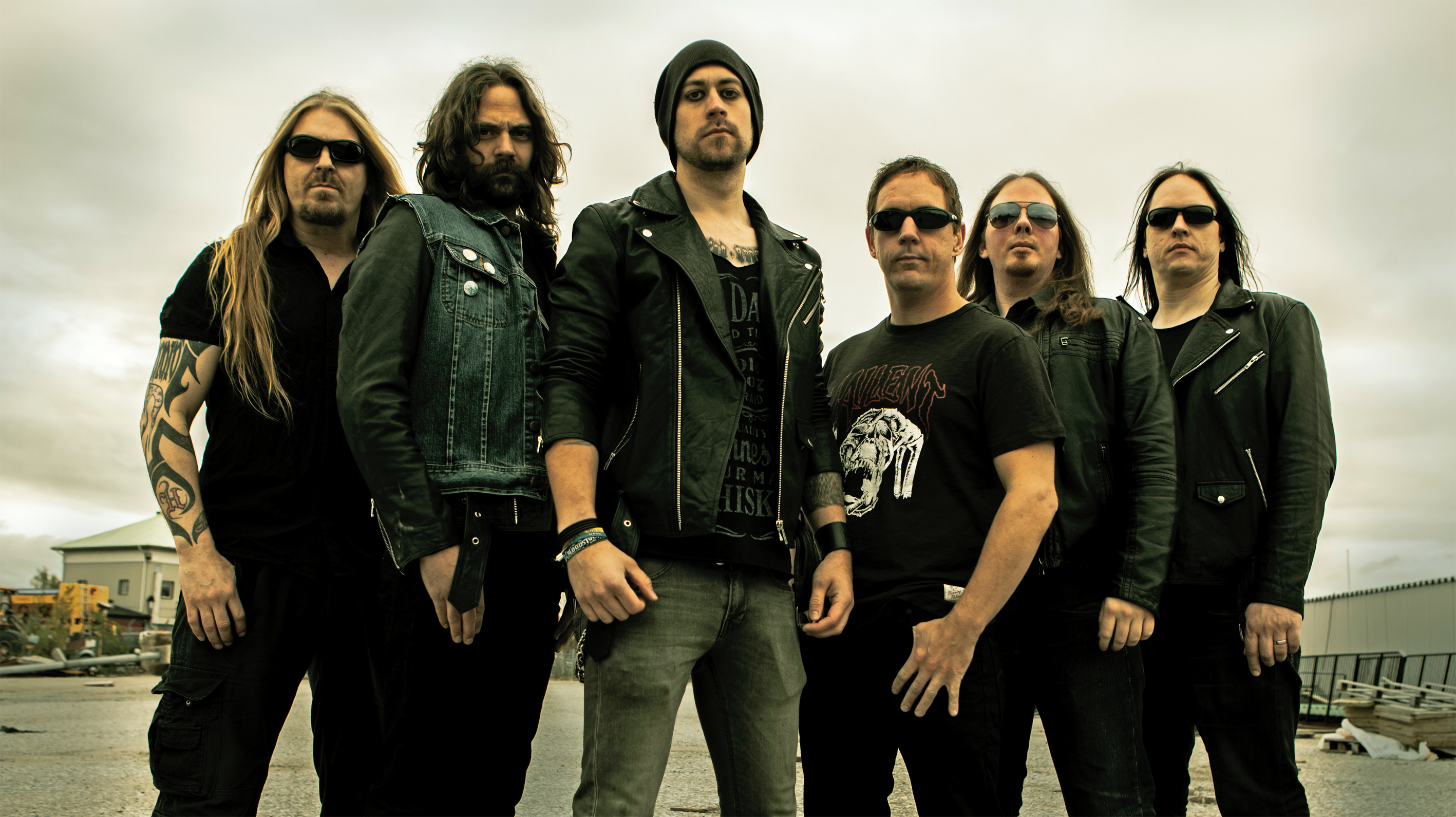 How did the collaboration between you and the metal band ShadowQuest come about?
It actually started during the 90: s, when I met Ronny Milianowicz for the first time and it was in connection to the girl he was dating at the time, she had the lead in a musical I wrote. Ronny simply liked my kind of work and I was asked to make the cover of his band Sinergy's album Beware The Heavens. It was the first cover I made for a metal band. After Sinergy I also designed the covers for other bands Ronny played with such as Dionysus' album Sign Of Truth and Saint Demon's Pandeamonuim. I also made the logotype for ShadowQuest, which is awesome!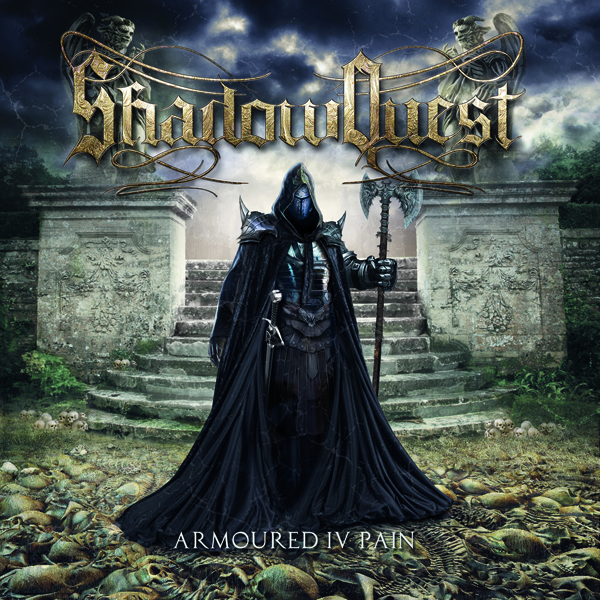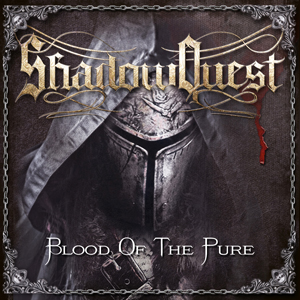 Over the years it's been around fifty record covers that's been made and printed for bands such as Broken Oath, VP (Värmlands Pojkarna), Eternal Fear, Whisky and Dynamite, Roger Pontare, Johnny Engström, and the country singer Don Redmon. A genuine blend of musical categories and all with Thomas' unique ability for details and storytelling covers.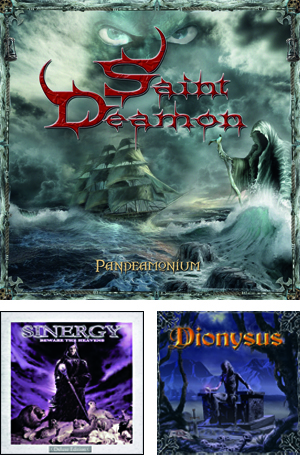 How is it done?
It is very different, some bands has a basic idea that I presuppose. Other bands don't have any ideas, and give me free hands right away, says Thomas.
Sometimes the band or the artist has had a strong philosophy about how they want it to look like, that they totally deviated from when I made suggestions of my own, so it is very different. With the most recent covers for Don Redmon and Shadowquest I have been able to do what I always wanted when working, I have been given the opportunity to tell a story that begins at the front and continues through the spread and ends on the back of the cover. The entire cover of Armoured IV Pain is actually one story I've had in my head for quite some time and now I am able to share. (Read the story at the end of this article) I might get ideas from the title track, from the band's name or from one of the lyrics, states Thomas.
How long does it take to make a record cover?
Oh wow, it depends on how many pages there are off course, the amount of text, if I have all the information to begin with, or if there are additions just before it is going off to be printed. It can take me from a couple of days up to a few weeks; also it depends on how much work they want me to put into it. I am sure you think it's a vague answer, but it's true. It is like painting, sometimes all the pieces fall into place immediately, or you have to repaint it a couple of times until you're satisfied. Naturally, the printing firm is playing a major part, they might not work the way I would like them to.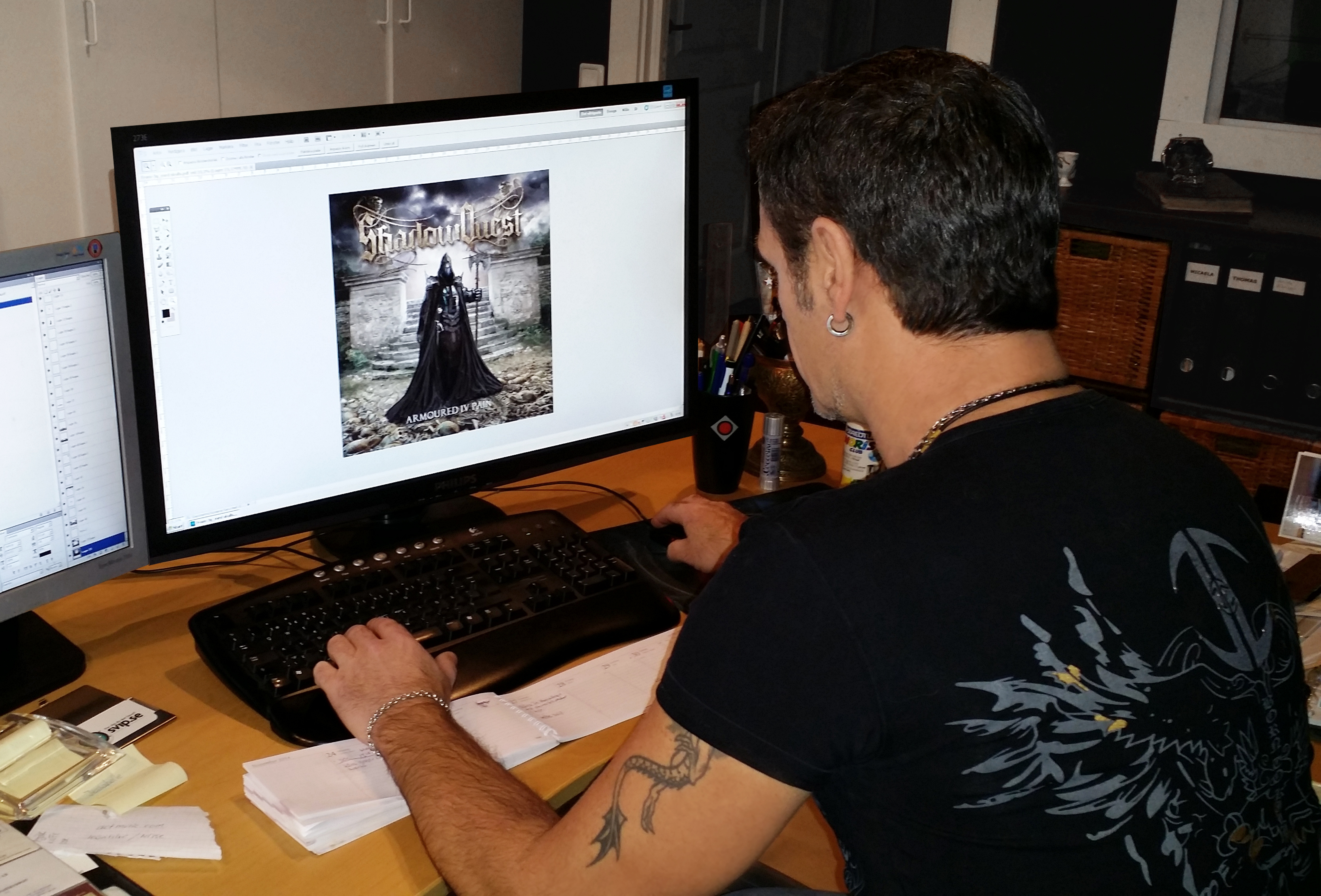 Are there any limitations to what you can create?
You will have to specify that question! No, not really. A couple of years ago I might have said so because back then I was painting mainly by hand and had to scan the pictures into the computer, but today I don't feel limited at all, perhaps when it comes to colours, I might have this specific colour inside of my head and might not find it immediately. I like to work with authentic photos but yet I like to paint them to be able to create the right feeling I have in my head. I don't sit around and "copying and pasting" all the time, I paint my artwork with the mouse and often combine that with photos.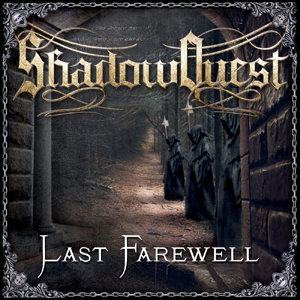 You are a musician and a song writer, are there any pro and cons when designing record covers?
Well, that fact is just an advantage when working with the covers. From music I make pictures, and I can sometimes get a strand from the covers or the pictures that I create. It goes hand-in-hand I believe.
I am having difficulties to combine your work and you as a person, you don't strike me as dark as your metal artwork, but you must have this in you since they are incredible detailed. Could you please explain?
Well yes… (laughter) No I'm not dark or much clouded as a person. On the other hand I have always been fascinated by mysticism, magic and the unexplained. I love horror movies! Naturally it comes from the fact that I love this kind of music myself and it is supposed to be mysticism, darkness and thrill or it's not Heavy metal. A picture of a flowery meadow just doesn't fit in on the cover of a Heavy metal band… (laughter) No, but the artwork must fit the genre and Heavy metal is powerful music in itself with detailed lyrics about the battle between good and evil, if you know what I mean…

Do you wish to contact Thomas for your album cover or to have an awesome logotype? Do it at: designverkstan@svip.se