An inspiring hard rock band from Saint Petersburg with influences from Whitesnake and Rainbow. They were called Old School from the beginning and were founded by the guitarist Sergei Fedotov. In 2012 they changed their name to Reds' Cool in connection to the recording of their second album Bad Story that was released in August 2013 and produced by no less than Mr. Michael Wagener (Ozzy Osbourne, Extreme, Mötley Crüe, Skid Row etc.). Reds' Cool is the support band to the British rockers Magnum on their European tour. Svip.se met the band in Örebro just hours before they went on stage at Kulturhuset.
The guitarist Sergei Fedotov met us in front of the stage and invited us back stage where the rest of the band was waiting, they had just finished their sound check and greeted us by standing up and offer seats in the sofa.
Andrey Kruglov foto svip.se
Please tell me about Reds' Cool, how long have you played together?
We have been playing together for about six years now, there have been some changes in the band but now we feel like a solid group. There are five of us but we include our sound engineer Jack Benzin in the band, because I don't know what we would do without him. We're simply a team, says Sergei.
I read that you changed the name of the band in 2012, how come?
I really don't know, most people thought that the previous name Old School was old and clichéd, so we changed it to Reds´Cool and most of us are from Russia so… haha!
And what about the female and male symbols in your logo, what would you like to say with them?
Sergei has to answer that, says Slava Spark singer and front man in the band. Yes, I have worked as a doctor for many years so maybe it's from that or it's just a kind of joke. It's not significant at all, it just looks good, Sergei continues.
You recently played together with the Norwegian band A-ha?
Yes that is correct, says the whole band at the same time. It was at an arena with about 10,000 persons in the audience, says Sergei. Actually it was 16,000 ads Andrey and Dimitry. Yes that's right it was at an ice hockey rink Sergei corrects himself and says with a smile that he can't count…
After that show you went on tour with the metal band Royal Hunt, it's quite a contrast…
Yes and that was by coincidence, it is tough to get gigs in Russia and we were asked and we said yes...
And now you're on tour with Magnum, how come?
We have a German manager and he sorts everything for us! We're a band and naturally we want to play, but the competition is hard… Our genre isn't welcome in Russia, people's mentality is either on or off when it comes to music and there's nothing we can do about it… It's take it or leave it and we're taking it, ha ha! No to be honest, I am the oldest with my 57 years and it is tough for us as a band, the only professional is Andrey Kruglov (drums) who's played in several bands and been touring and playing all his life. I have only played for seven years… So we're a gang how likes to play and our sound is a bit old school with influences from Whitesnake, U.F.O and Rainbow, melodic rock simply said!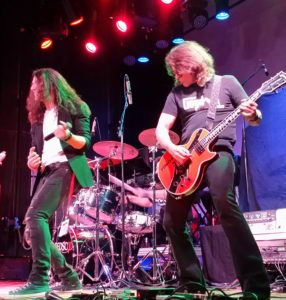 With the right song, would Red's Cool consider entering the Eurovision song contest?
We have songs the would fit the Eurovision, but who on earth would invites us there?
Which was your first LP you bought as a young man?
My first singel was Sorry Suzanne with The Hollies and I was 14 years old.
After Red's Cool's tour in Sweden the band continues to Germany for around ten more shows together with Magnum. Svip.se will continue to update you on these guys.
Red's Cool consists of: Slava Spark vocals, Sergei Fedotov guitar, Ilya Smirnov guitar and back vocals, Dimitri Pronin on bass and back vocals, Andrey Kruglov on drums and Jack Benzin as the sound engineer.
Svip.se would like to thank Red's Cool for a lovely chat and a superb show!