Eager and ready to conquer the world
The power metal band Veonity consists of four guys who three years ago decided to start a band and go all in. Their dedication and inclination for the genre now resulted in a record deal with the American label Sliptrick Records, and September 23rd it was time for the release of the album Into the Void including 12 dynamic and well-reasoned songs. The album was partly recorded in Örebro and Studio Seven, where amongst others Hammerfall, Dionysus and Fergie Frederiksen from Toto has worked and recorded. The new album is produced by no less than Mr. Ronny Milianowicz, also the drummer of Shadow Quest. Svip.se listened to the album Into the Void and is now prepared to follow Veonity on their journey into the world…
We phoned the guitarist and songwriter Samuel to ask about the band, their drive and naturally the new album! Could you with just three words please describe Veonity?
Three words? Eeh… melodic… this was tough! Melodic, fast and well… it is really difficult with just three words! Melodic, fast and sing-along friendly!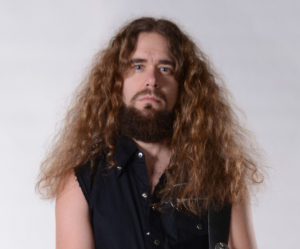 Dedicated and creative, without backup to start with. Please do tell…
Yes well these days a record deal doesn't mean the same type of solution for a band as it did during the 80: s and 90: s, when you succeeded to get a contract and the money was thrown all over you and one could get started properly. Today it still takes that you do most work yourself and with your own contacts, venues and knowledge of where to send printed matters and so on. A band today is a lot like running your own business, with all things to do apart from playing great music.
We had a pretty good insight of the business and we didn't have any unreasonable expectations, and we have learned a lot during the course of our journey, and to start with you have to give both of your time and money… This is where the record label is a huge help as they have a larger network!
Two singles prior to the album release, one with a music video…
Yes, Warriors of Time is the single we made a music video of and it has been watched by a lot of people and we have had a very good response, and that response just makes u more excited about the release! The second single is In the Void and was released September 15th and is yet another teaser from the full album.
Album release September 23rd, where can we buy it from?
You can buy the album in digital form at iTunes and Amazon. So the usual online shops and the physical album from our website and naturally the record company are selling it as well.
Any tour planned?
Yes we are going to the Baltic States to do a few shows as support for the band Kobra And The Lotus. So that is what we have planned for now, it's like a mini tour and we are very excited!
With the right song, would you consider entering the Eurovision song contest?
That is an interesting question; we've actually talked about that. It's a lot of fun and a good production, so we did talk about it but it might be…we would like to enter but I don't think that we actually would! It would probable mean we have to skim a bit of our musicality, I mean the things we want and we would be gathering an audience that we normally wouldn't have… but it's a very interesting and tough question!

Which was the first LP you ever bought?
LP? It was Europe's Out of This World! Or it might have been the Piano Sonata No. 14 by Beethoven (popularly known as the Moonlight Sonata)…
We would like to thank Samuel for your time and wish Veonity all the best with the new album Into the Void, released September 23 rd.
Review Into The Void – Veonity
Twelve songs of power metal can for the none initiated to the genre seem a bit too much, but the powerful thing about the album Into The Void is well-reasoned songs, mighty drums and awesome guitars. Veonity tells the listener a story, a space story that starts on the cover of the album, and can be seen in the music video of the first single Warriors of Time, where the powerful and melodic backup choirs are weighed in just right. After that the speed of the album ejects itself in a groovy tempo, without being boring anywhere. Nice pace changes, awesomely good choruses and you can hear what Mr. Sköld is singing!
Song number six; Insanity, is to me a surprise, a ballad that takes the story forward and with a hint of folk tone. There's not one song on this album that isn't good, all twelve songs hold a high quality level and I just want more. Unpredictable and catchy!