Anna Bergendahl – Back in Business
As a young and brave 16 year old she threw herself into the world of music and media and became Anna with the whole of Sweden. The year was 2008 and she ended up in fifth place of the TV-show Idol. Two years later Anna won the Swedish Eurovision Song Contest and travelled to Oslo, Norway to represent Sweden in the finals. Sweden didn't qualify and Anna Bergendahl experienced the rough side of being a public person. Two full length albums and a whole lot of touring later she is about to finish the recordings of her third solo album.
With your latest song and performance on TV, you feel very grown up and seam to have a good self-esteem, please tell us about the new Anna…
Ehm… Yes I think that is correct, I am more mature and has become more secure with myself, a bit more grown up maybe. I am more interested in politics and in the world and I have written more on that topic, so it is the result of my first try.
Tell us about your new song "Business", what is it about?
Yes it is a song that I wrote together with Mr. Tobias Fröberg, who also produced the coming new album. We wrote all the songs on the album together and we have talked our way to and through this album. We have talked a lot about things that have happen in our lives, things we've been through. This song in particular came from a discussion we had… it was about how it is to be a woman and a young girl in Sweden today, and it was a very emotional conversation we had, so I went home and wrote the lyrics to a melody we had worked on.
We have been working on the island of Gotland, so it was really back to the hotel room I went and wrote the lyrics and it was done the next day. I wrote the lyrics in affect and it was sort of done completely…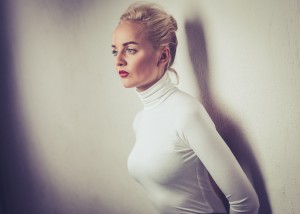 I watched your performance on the morning news; it looks like you've stopped apologizing for yourself. Do you agree?
Yes, well that is an interesting thing, because I felt like I did that before. I think it is quite common for foremost girls to do so, you should apologize and you shouldn't take up space and you should be very grateful for what you receive. Things you have worked for, I have been working really hard for many years now and I have started to feel I actually deserve this!
You were just 16 years old when you applied to Idol. Do you feel today that you were too young for what were ahead of you, and would you apply again, knowing what you know today?
That is so double for me… it was such a good school for me and an awesome thing to be a part of as a sixteen year old. To be introduced so early and what came from it, so in a way I believe it was that journey I was meant to do. But if I don't think of the magic I believe I should have waited a few years, and probably done a lot better if I was a part of Idol as a 23 year old. At the same time I just threw myself into it when I was sixteen, I was very brave and didn't give it much thought; I just went on a feeling. Today I am giving things much more thought. I didn't have a lot a consequence thinking, I just went with it.
After your participation in the Eurovision Song Contest you received a lot of harsh and unfair criticism, how did you go on from there and how did you keep your hunger and joy for the music after that?
Yes, well I was lucky to go on a long tour in Sweden after the Eurovision, we also went to Europe and it was amazing… Yes, it was healing in a way to be able to come out and meet the people who voted for me and I had a lot of sympathies too. That healed those wounds right away in a way, and I didn't read much of what was written about me, you just don't do that, or rather you learn not to. I really have no idea about what was written about me, but it was amazing to be able to go out and realize I had an audience and there were people who still liked my music. We had an incredible tour and shortly after I started to work on my second album in the US, so things just rolled on forward.
I guess I was lucky, because if there would have been a break or a vacuum right after, I think things would have been much worse.
So please tell us about the new album…
Yes, it is a project I am working on together with Mr. Tobias Fröberg. An unbelievable cool Swedish producer who is based on the island of Gotland. We have been working on the album for nearly two years now and it will be my third album. It has been incredible fun to work in Sweden again and together with a Suede, it's a lot easier to communicate and we have had the same vision along the way, and been inspired by each other I believe. It has also been good to work with just one person, instead of maybe five people on one song; it's just been him and me. The result is a untied sound and the group of themes has become good. Yes, there have been things that I and Tobias have talked about. In this way it's become a unit and I have enjoyed working in this way, to just be the two of us and not having to travel too far and be able to see each other often.
When will the album be released?
Yes, we don't really know yet (haha). We are in the final stage of the writing process. We still have a few songs left, but we will be releasing a lot of music during the year anyway. But we don't have a date for the full length album just yet…
What will the new album be called?
We haven't decided that either (haha), we are pondering upon that too. We are just about to string everything together and are hoping that everything falls into place. I walk around every day and write down a title that I come up with.
And finally, which was the first album you ever bought?
The first record I bought on my own was probably… I was given a lot of music when I was a kid, but the one I bought myself were a record with Tracy Chapman which is called Let it rain, it was released I think in 2002, so I was about eleven years old…
An interesting addition is that the producer Mr. Larry Klein both produced Anna's first bought album with Tracy Chapman, and also produced songs on her own second solo album Something to Believe In, that was recorded in the US in 2012.
svip.se would like to thank Anna Bergendahl for your time and wish you all the best with the new album and thank you for a lovely conversation!