svipchatt with a world class multi artist.
Most people know of the musician Anders F Rönnblom…
Most people know of the musician Anders F Rönnblom, with well-known songs from the 80: s such as; "Det är inte snön som faller" and "Europa brinner". But when I did the research on you, I realized that you are so much more. Would you please tell me a little about this?
Of course! First and foremost I am a musician, and it's been a lot in the course of this year. During the 70: s I was working double activities, I was touring intense with all of what that implicates and at the same time we were running a design bureau. As I gradually grew older I wanted to slow the touring a bit, and it was in 1991 I started an international digital magazine about Macintosh and various software. The magazine was published between 1991 and 2004.
This was during a period when everybody wanted to learn about Macintosh and I've always been keen on recreating sounds in different experiments with help from computers and digital design. I was also traveling around the globe and gave lectures on the subject. Amongst others in Tokyo and San Francisco. A very different experience with some analogues to preforming on stage as a musician. In Tokyo crew members came on stage with both water bottles and towels during my lecture, great fun!
The magazine was a little bit like a baby and sometimes it sold really well, but I should have closed it down earlier…
I used to be and still is a great record collector, but during the 90: s when the CD: s came I didn't buy anything. It wasn't until 2002 I made a comeback and started to buy records again, and then it was Patty Smith and Neil Young I purchased. I kept quite low overall with the music during the 90: s, but still people hadn't forgotten about me. The fans I lost, Winnerbäck won over to his crowd.
As an addition Anders and Christer Herentz co-wrote his biography in 2010 it's a 500 page book and it's really something tasteful to chew on.
Please tell me about the Digital Hall Of Fame.
Well yes, this was a cooperation together with a reproduction company in Stockholm. We had funding from several users and displayed around a hundred aquarelles in a test exhibit in Paris, Barcelona and in Tokyo. Many of the designers are still keeping in touch, but it is difficult to focus 100 % on several things at the same time, this is why music is number one for me again.
You have released about 40 full length albums so far, and now you are in the making of another, could you please tell me about it?
Yes, that is correct. In 2004 I released a collection box called the "F-Box"; we transferred all previous music to digital and modern technique. It contains all of my eighteen first studio albums, one bonus DVD and a 192 page book with lyrics, chronicles, pictures and comments. The release gave me a "Welcome home" as I felt I wasn't forgotten by my audience. In 2006 we recorded the first live album during two nights in the city of Örebro. In total I have released five live albums so far.
The new album is called "The Cosmopolitan Cupcake Conspiracy" and is number two of a trilogy and is going on final sound dubbing within the next days, and it is scheduled for release in October. The first on the three is "The Caviar Pizza Man is Back" and was released in January this year.
Where do you find your inspiration?
I write new music all the time, crooning and whistling and record it onto my portable recording studio. My inspiration is everywhere; it comes to me while reading newspapers, the contemporaries bring lots of spark. Also Lou Reed and more recent artists such as Nick Cave give me a creative spirit.
You have done a few gigs together with the Swedish band Generalerna, how did that come about?
Ha ha, that is quite funny! We were booked for the Stadsträdgården in Örebro, and when we showed up, it turned out we were booked for an acoustic gig. We turned up as a full band, and behind the mixing panel there was this small and slender guy who didn't have an accurate mixing panel to go through with the gig. But this guy was really positive and sorted things out and we went ahead with the gig. The guy behind the mixing panel had to take some moody comments from our bass player, who's actually a sound engineer himself, but this guy was just as happy anyhow. A year later, also in Örebro we were to play again, but this time on the big stage, and as we were waiting we listened to the band prior to us and that was the Generalerna that was entertaining, with the slender guy from behind the mixing panel a year earlier as the front man. We all enjoyed them as a fairly good band with a bunch of weird songs but with lots of god features on stage.
In August the same year I had a phone call from the Generalerna's singer Björn Wallgren, as he invited us to his 23 year old birthday party in the city of Sala. We liked Björn and Generalerna, so we showed up and played some acoustic songs!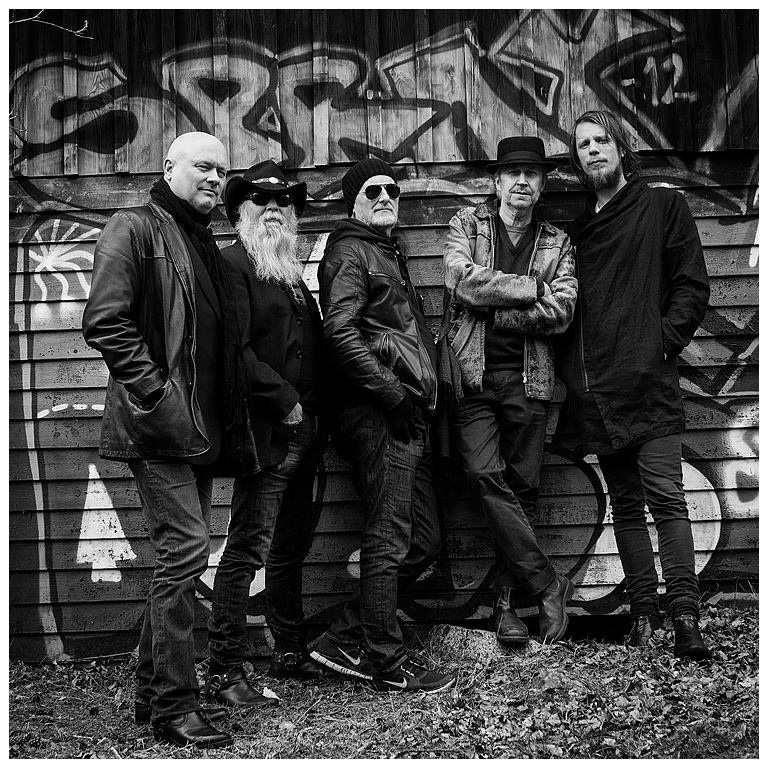 Which was the first LP you bought as a young man?
Ah, it was The Shadows first solo album. I remember the feeling I had as I walked in the store, they didn't really sell LP: s, but tools and stuff. It was at Brådman's record store down at Skolgatan in Stockholm 1961!
New album
The new album which is called "The Cosmopolitan Cupcake Conspiracy" is recorded in Anders' own recording studio at his home. The band behind Anders is a bunch of stabile guys who's been around for a long time and they are called the ARF-Band with Björn Rothstien on drums, Björn Aggemyr on bass, and Peter R Eriksson on guitar together with the latest and youngest addition, Kalle Ekerstrand who replaced Jesper Lindberg.
"The most important thing right now is to be able to get out there and perform live, as much as possible" says Anders. That is something our editorial staff at svip.se agrees with; do not miss Ander F Rönnblom and his ARF-Band out on the live stages, where they are absolutely their best!