Destiny still going strong
It has been ten years of rumbling from the musical volcano Destiny. Something has been going on all along. But now thirty three years later, the time has come for a creative outburst. We get a hold of Mr. Stefan Björnshög, the founder of the band, in a small village outside of the Swedish city Växjö. Naturally, we are curious about what Destiny has going on.
 
First to go, a digital single "Living dead", just recently released and that will be followed by the thirty three year anniversary album later this year. He doesn't want to reveal the title yet, but the album will contain fourteen songs. Five of which were played live during the 80: s but never made it to an album. The other nine are new recordings of old album songs.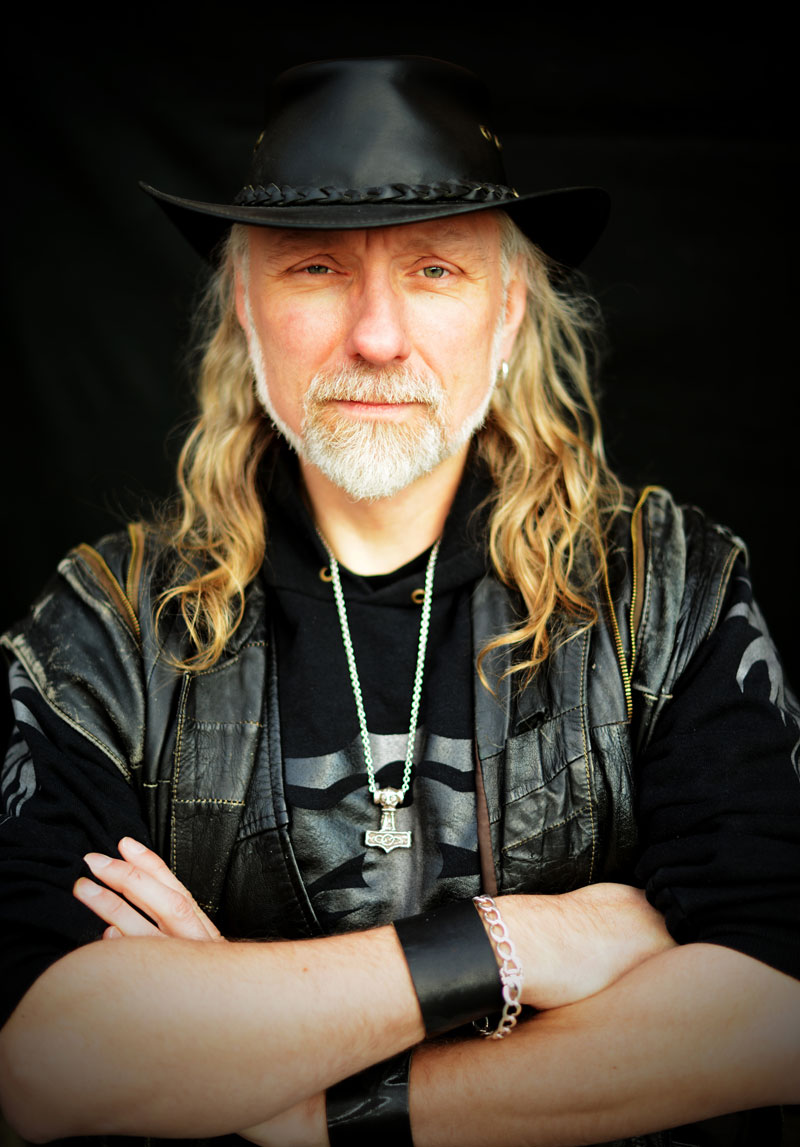 Tell me about the five "live" tracks?
The oldest song is from 1983 and the newest is from 1986.
We've done them live, but back in those days there were less play time on a vinyl then what it is today on a CD, this is why they never made it. Most of the lyrics are written by our original singer Mr. Håkan Ring who only sings on the debut album Beyond All Sense, and he never wrote them down and didn't remember them, so he offered to write us some new ones. One of the songs is a hybrid between new and old music, since there wasn't a complete demo of the original version.
And the rest of the songs on the album?
They are foremost from the album "Nothing left to fear" but all the albums except "Beyond All Sense" are represented, since that album already is newly recorded and also includes two old and never before released bonus tracks. The idea was to have guest performance from former singers and/or musicians from the bands history. When Jonas joined I asked him if he wanted to sing all of the songs, or if I was to contact the previous singers and see if they were interested. Luckily, Jonas wanted to sing, which is great since it turned out to be awesome. In the end the three previous guitarists John Prodén, Knut Hassel and Anders Fagerstrand, as well as the drummer Roger Christiansson and the keyboardist Carl Dahlberg are guest performing on the album.
 
The idea behind the album is to reconnect to Destiny's musical history and build a foundation for our comeback. You want an album to lean on when going on tour again. Besides, the old albums are only released in Europe, so for the lager crowd in the world, this is all new stuff.
Any queer memories from previous touring?
There are many, but one that stands out is when we played in Kristinehamn years ago. Things got a bit hysterical, a cymbal fell down and cut one of the guitarists cord so the amplifier broke. The promoter came to help fix it but instead he got electrified. He ended up in the hospital so we had to go there to get our gage. The guy was ok though.
One original member, one returnee and two new members since the last album. How is that working?
Really well. Today's line up is solid. Although it is my vision that imprinted Destiny's sound today, I want everybody to feel accessorial and happy with their contribution to the band. Everybody contributes and we arrange the songs together. But if anyone would suggest that we should play Carola songs (Carola is a Swedish Eurovision Song Contest winner) it wouldn't be happening. The band already has a purpose and image since long, so there is no discussion. We are a unit. Without the other band members input we couldn't have made such a great album.
The three guys on the anniversary album together with Stefan are no spring chickens. The lead singer, Jonas Heidgert is from Dragonland. Michael Åberg on guitar, used to play with Nostradameus and our drummer Kane Svantesson, used to be in the band but he is not on the album since he joined again after it was recorded. We had to borrow a drummer, Adde Larsson from amongst others M.A.N and Black Candy store and Roger Christiansson who's just playing on the new single "Living Dead", but it is Kane that you can see in the video. Almost a fifth member Stefan mentions the sound engineer and producer Henrik Pettersson from Trampolin Recordings who really contributed to the final result which is of the highest quality. The albums are as usual recorded in the band's own studio Destiny Recording Studio, or DRS as most people call it.
You call your music Mörk rock (dark rock/ dark metal), tell me about that.
It's an expression that was coined already prior to the first album. Our music had and still has some suggestive moods. It was actually a guy from Stockholm who said: Your music is darker than other bands, and I thought it described the music well. So our music became mörk rock. We have sometimes been called the destiny symphonists, which is quite suitable on some of the songs. On the third album we started to sound the way I wantedt to, we had found our tone. We called the music Dark Metal in English. Not to be confused with today's dark metal, we do have a few fantasy lyrics but it has nothing to do with the occult. Now we are launching mörk rock across the borders. It's fun with the dots above letters. Take Motörhead and Blue Öyster Cult for exampel. Or Spïnal Tap how has the two dots above the ï,, Stefan laughs!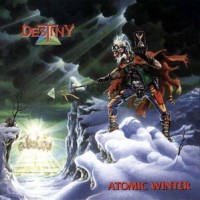 Many of you might remember the cover of the second album Atomic Winter that was painted by Mr. Derek Riggs himself. How did you get to work with him?
Basically it started with the need for a powerful. We thought about what cover-artists we liked and initially contacted Mr. Rodney Matthews. But it didn't happen. And as we previous sent some demos to Iron Maiden's management, Rod Smallwood who have said no to the cooperation, I had their telephone number. So I phoned them up and said I needed to get in touch with Riggs and got his number.
He asked how I got his number and what I wanted. I said it as it was, that we needed a good cover. He asked us to send music and lyrics and that he'd get back to us with a draught. After we'd agreed over the draught he painted the cover.
Have you had any contact since?
I visited him in London once and had the chance to ask him why he agreed to do our cover. He said that he liked the name to start with and when the music and lyrics were good, he was inspired, was the answer. He was also considered as the artist for our third album. He made a draught for this but the record company said no. They didn't want to pay what he was asking for. I have his painting of Atomic Winter in my home.
The cover for the new digital single is made by Mr. Mats Gustafson. At first , the idea was to have that cover for the album but the picture wasn't made in a high enough resolution to be printed. But online it works perfect and we wanted to use Mats powerful picture which really goes well with both Destiny and "Living Dead".
How do you feel about the digital revolution within the music business?
Regarding our digital single it is an easier way to promote us. A lot easier to reach out but at the same time it makes it difficult to earn money from your music. Recording costs remains. I am a member of the old tribe who still buy records. I think it is a pity if one doesn't listen to the whole album. Most of the time one gets tired of the hits and find new favourites after listening a few times.
So there's a flurry of activities with Destiny. Or am I wrong?
Yes, the creative outburst is exploding. The Single and the video are out and the coming anniversary album is on the go and later, the all new album "Global Warming". In addition an all new special song will be released during April, it's just been mastered. And naturally, what we all have been longing for, to get back on the stage again, so yes, there's a lot going on..
Ever wondered what Destiny's logo (the triangle) means? It is the Greek symbol of fire, one of the four elements. What could be better suitable to a band that's reawakening?
svip.se would like to thank Stefan Björnshög for his time and hope that we will be able to see the band on the road again.