Darin with butterflies in his stomach…
One of Sweden's most liked and talented artist is current with a new album, his seventh and this time in Swedish. Darin Zanyar have the ability to spellbind with both his person and amazing voice, with his new album he affects more than ever before. Tag along with svip.se and find out which the first record he bought was and what celebrity he would like to date…
You just released your new album Fjärilar i magen (Butterflies in your stomach). How come you choose to write in Swedish?
It felt very natural after the TV-show Så mycket bättre (So Much Better, Swedish reality show) when I really wanted to continue to sing in Swedish. I didn't know when or how and if I would write, but about one year after the TV-show I tried and then I wrote the first song for this album called Lagom (Just Enough). Where the title for the album origin from, where I sing "I want to live life as long as it feels like butterflies in my stomach, I want all but not just enough". So it was that song set the sound and the track for the entire album and well, it's completed and out now. It feels a little weird but wonderful at the same time!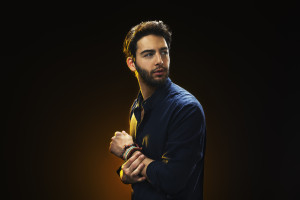 The song Tänk dig (Imagine) is very up to date; please tell us about it…
Yes, that is the most important lyrics on the album, it is about something very close to me and is about everything bad that's going on in our world at the moment, with all dark winds wrapping in on us and it's actually more current now than it ever were. I wrote this song last autumn when there were commotions in Kurdistan, and at the same tine I was travelling with SOS Children's Villages to the Philippine Islands, and I just felt I needed to get everything off my chest, so I wrote how I'd wish that everything were different…
The song Ta mig tillbaka (Take me back) was your first live production, did you apply the same "life" through out the album? And what are the greatest differences compared to how you've recorded in the past?
Yes I have had the same band. I hired musicians; well some of Sweden's best musicians' to record this album. Everything was recorded live during two weeks in the studio, which is a completely different way of recording to what I have done previously.
Before now I have been able to program the keyboards directly and now I had the musicians with me and if I wanted to change something, we had to talk about changing a cord or if I wanted something to be played different and so on. It was all new to me, but the music came alive in this way…
Who are the musicians on your new album?
It is… David Lindgren Zacharias who I wrote together with, he played the piano and then it's Ollie Olsson who also helped me to produce amongst other things, he played the guitar and then it's Anders Pettersson also on guitar, who's really good. Rikard Lidhamn on bass and Magnus Olsson on drums.
You are releasing this album through you own record company Dex Music, please tell us more…
Exactly, I realized that the project became very, very personal and it felt sp close to me and it was all very new… I just felt I wanted to have full control of it all and I decided to start my own label so I could be in command and actually hire the people I wanted to work with as a team. So the record company is brand new and the song Ta mig tillbaka was the first song I released from this album and it was during this process that I decided, so this wasn't planned from the beginning…
Do you play any instrument on the album?
No not on the album, I leave that to the professionals! I mainly play the piano but this album is more guitar based, then we'll see if I play something when we go live. I like to focus on my singing…
We have selected a question from our readers, Olivia and Julia 13 years old from Karlskoga; which celebrity would you date if you could chose?
Which celebrity would I date…? That's tough… I really need to think about that, haha! Beyonce wouldn't hurt… (laughter)
And finally, which was the first record you ever bought?
The first album I bought was probably Michael Jackson's Bad…
Svip.se would like to thank Darin for his time and wish you all the best with your new album Fjärilar i magen, and look forward to the spring tour starting at Cirkus in Stockholm February 9th 2016.
Up-to-date with:
The new album Fjärilar i magen in Swedish
Spring tour: 9/2 Stockholm, 12/2 Uppsala, 13/2 Örebro, 14/2 Västerås, 17/2 Gävle, 19/2 Umeå, 20/2 Luleå, 24/2 Linköping, 25/2 Jönköping, 26/2 Malmö, 27/2 Helsingborg, 28/2 Borås, 3/3 Växjö, 4/3 Halmstad, 5/3 Göteborg, 6/3 Karlstad.
Newly started record company Dex Music