D-A-D is a hardrockband from our southern neighbouring country Denmark and with their music they've grown quite a fan base around the world, not least in Sweden. D-A-D's latest album DIC.NII.LAN.DAFT.ERD.ARK  was released in 2011 and now the band is starting to put together songs for a sequel. Svip.se asked the lead singer Jesper Binzer about the new and upcoming product and what the band has in store for the new year. 
You are releasing a new album at the end of 2017?
We're hoping to be able to release an album at the end of the year. But the thing with musicians and artists, you can never be sure. I can not make any promises, but we are recording demos. Five, six of them are good. Three are really good, but things change. You have one good demo and then you record it and everything becomes magical.
You are going on tour and will be visiting Sweden at four occasions…That is quite often…
Naturally. Sweden is our second home. When we started out in 1983 it was fast and simple to reach Malmö. Sweden has always had a stronger rock stage compared to Denmark. The Swede's was during the 80: s more open to our music than the Danes, so we have toured Sweden from the beginning.
Will you be trying the new songs on the audience during the tour?
We're hoping to do that but things have changed. Everybody has a mobile phone and they're recording everything you perform. So all of a sudden you have a half done version of a new song on the Internet and then you record it in a studio to finish it properly and the audience doesn't recognize it. We've done that a few times and we enjoy playing a song live to see how it develops up until it ends up on an album. We don't know how we will do it this time but I am hoping that we will.
You will also play at cruise-ships…
These cruises are a pleasure. It's a new concept to the heavy rock fans. Suddenly, for a decent amount you have everything served. The only thing you need to do is plan your holiday. Heavy rock festival at a cruise-ship is a brilliant idea. It's perfect in the sense that you receive all you can eat and drink, hard rock and a beer. It can't get better.
So everyone can live the rock n roll dream?
At first we were sceptical. These cruise-ships are more like the Trump Tower than a rock club. An odd environment. One of my best memories is from a stormy night and the cruise-ship was rocking and you really felt that you were on the sea. On top of that being on the stage and trying to stand straight, there was a lot of power in the music and the storm on the outside.
You used to play drums?
I started as a drummer but discovered pretty soon that I couldn't keep my mouth shut; I had to be the singer. But to play drums is a physical thing. You act more physical when you play drums than when you sing, which is good since the soul of rock n roll is physical to an extend. Sometimes when you have a lot going on in your head, it's nice to play a few songs on the drums. Then suddenly you naturally discover what rock´n´roll is about.
Your brother plays the piano; it makes me wonder if you were brought up in a musical family?
Our father played Spanish guitar. Before that he was a bass player in a jazz band. So you could say that a part of our family is musical. The biggest breakthrough was when my mother came home from a school where she taught how to take care of children, with an acoustic guitar and played children's songs. It was definitely there it all started, me and my brother was around ten or eleven years old. All kind of musicians backgrounds' been there but it is first when you start playing the instruments your self that you see what a real composition looks like. 
I have heard that in the Danish edition of Trivial Pursuit there's a question about who invented the genre cow punk and that the answer is D-A-D. Is that true?
It is true. Denmark is a small country and sometimes you can be a national treasure. The most insane thing happened to us a few years back when the Donald Duck magazine put us in it. The story was about a rock singer returning to his home town, his name was Jesper and his brother Jacob. The story was fun and we laughed out loud. Now we're a part of something bigger than ourselves, now people know who we are.
Donald Duck is the right place for you guys to be, Disneyland After Dark…
Exactly. It was really fun being a part of Disney's company.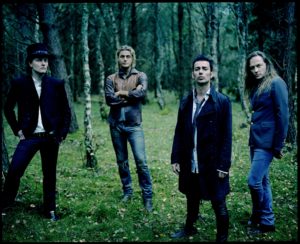 You have played together since 1982?
Yes. Apart from the drummer Peter Lundholm Jensen that was swapped in 1999 for our current drummer Laust Sonne. It feels amazing to have this story together. I think it is more important to be a part of each other lives than that it becomes businesslike. I believe that it is important when creating that you remember to stay close to the human side and not just the monetary part. I think it meant a lot to us when we started, that we saw ourselves as humans and not musicians or rock stars.
You have fun on stage and in your lyrics…
Naturally. Creativity can take all forms and colours. Sometimes you write fun, melancholic or angry lyrics. It depends on what's going on inside of you. You do it in a way to communicate, not explaining yourself but at least make yourself visible or accessible. It's important to reflect what's going on inside of you and in that sense you can grow and explore your art and mature with it. It's very important especially within rock music. Otherwise things can become very childish.
A lot of artists say it's difficult to live on the income from record sales and has therefore their own wine and beer brands. Would that be an option for you?
Sure, but you don't earn any money from it. If you say yes to a company that asks if they may make a D-A-D beer and you ask what in it for you, the answer is a box of beer. Then we would say okay, let's do it. It's the same with wine, so it would be great.
So the question is really what beer do you like the best?
Exactly. It must be something you'd drink at home.
Do you have a fun or odd tour memory to share?
There are plenty of weird tour memories. We were in Los Angeles practising on a new album and we had contact with one of our former roadies who were working for Tom Petty and the Heartbreakers.
He told us that Petty was rehearsing for the production of new material down at the Lakers practising facility.
It was a small basket ball stadium and there were no audience but the band was playing songs to figure out which one to do on the tour. So we were there and watched a hole set with Tom Petty and the Heartbreakers. Later Petty came with the band smoking a joint. He shared it with me and the band, then Petty said:"guys be careful with it it's really strong." And he was right. So I was sitting high as a sky scraper listening to Tom Petty and the Heartbreakers. I can't remember having such an experience before when listening to Petty.
We thanks Jesper for his time and look forward to see D-A-D on tour.