Baskery – Sisters with an attitude
Baskery is a Swedish music group with three sisters Greta, Stella and Sunniva Bondesson.
The band describes their own music with expressions like "killbilly", "banjo punk" and "mud country" The line up is made up by a distorted slide banjo, contrabass, an acustic guitarr, three voices and a set of drums which are played with the feet. Svip.se got a hold of the band in the "states" before they are visiting our latitudes.
You are three musical siblings, I wonder if you come from a musical family with music as a profession perhaps?
Yes. Our father is a musician. When we grew up he played at pubs and bars around Stockholm. During the summer we went on tour with him both north and south of Sweden. It has definitely made a mark on us. We are and will remain unsettled.
You are siblings, any sibling rivality?
No actually none. We found our roles early and we don't compete with each other. Certainly there are some levels of rivality in most bands, family or not. Mostly we see that others, i.e. the audience like to compare and speak their minds about who's the best or the most charming one- that can be more damaging.
How come you had the opportunity to tour with Robbie Williams?
Well, we heard that Guy Chambers, Robbie Williams' producer and song writer went to our show in London last autumn and he wanted to meet afterwards. He and Robbie Williams had seen our youtube videos and wanted us as the opening act for the upcoming tour. They were totally hooked on our thing. 
Guy Chambers also heard about us through our publisher in the US, so it is definitely about contacts and good relations.
How does it feel to get back to Scandinavia on a smaller tour, after being out on this huge tour?
That's what we love, the variety! The large stages are powerful but all stages have its own charm, and it is good to be able to handle all formats. 
To play back home will be awesome, we are the only Swedish band on this tour. We are especially looking forward to play at Mosebacke terrace; we are from Stockholm and used to hang out there. We hope for a packed place and nice weather!
Any fun/odd tour memory you want to share with us?
Wow, that might be difficult. We have played a lot and there's always something weird going on. But since we like horror movies we can tell you about the time we got stalked by a van all the way from the show and back to the hotel. We took detours and hide in dark parking places, but the van still showed up. We didn't loose it at all; we ran in to our hotel room and pulled the curtains. The van was parked outside for a long while and we were afraid to go to sleep. We watched MTV all night.
Afterwards there was a comment on Facebook and we think it was from the person in the van, a fan who just wanted to speak with us. An odd way to seek contact- we were terrified all night.
Which was the first album you ever bought?
Björk - Debut on CD, first buy for our own money. SEK 119 at the department store Åhléns in Vällingby.
Has the first bought album influenced you in your musical genre?
Not in our musical performance but in our expression. Björk is innovative, unique and have always gone her own path- which is the most important element in our carrier.
You have released three albums already, is it time for number four?
We're actually going to the studio today. We are in the middle of a recording in Los Angeles, so yes, album number four is on its way. As always it is a long process, we're in the middle phase which is the funniest part when you get to hear all the ideas becoming reality.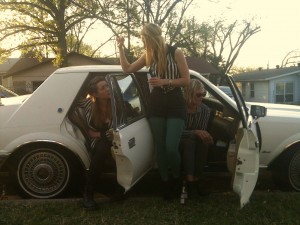 You have your own record company, Mother Tarantula. How come you started it?
We are signed to Warner Brothers in the US and will release future albums via them, but Mother Tarantula will still be around as our own label and maybe as a platform to new artists who wants to start at an indie level.
In our opinion, indie/private label is the best way to make records today if you want to be able to live on your music. It is extremely rare to be signed by a huge record company, they are often signing established acts who they immediately can cash in on- it is pure business. If you want to develop as a band it is healthy to have the opportunity to control your own development, to be in control both creative and financially. We started Mother Tarantula in 2011 for that reason only, to be able to produce and release the kind of music we believe in, without compromising. The name connects to the expression "to be the spider in the web" and the mother spiders are the biggest and most dangerous ones… 
Svip.se would like to thank the Bondesson sisters for this interview and we are looking forward to your tour on home grounds.