allusinlove – rock and love in symbiosis
The alternative rockband allusondrugs are back with a new bandname, allusinlove (all us in love) and the message is clear – rock and love in symbiosis. Keep your eyes and  ears open – its perhaps for first time, but definitely not the last time you hear about allusinlove. To find out more about the band we asked some questions to the guitarist Drey.
Was the change of band name your own decision?
Yes. We first wanted to change our band name back in 2014. We started to grow and we realised there would be issues. We never changed it due to many other things going on in the band, it was all happening so fast, and as a result we got signed as Allusondrugs.. half way through our record deal in 2018 our record label discovered there'd be problems with our name in America later down the line so we were asked to change it.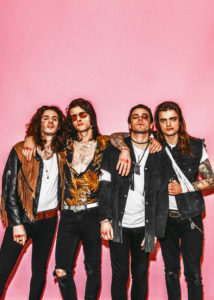 Is love also a drug?
Well, many studies suggest that intense feelings of romantic love affect the brain in the same way drugs like cocaine or powerful pain relievers do. There's also that song by Roxy Music that suggests it also haha.
How long have you played together?
Who's inspired you and/or do you have any idols?
We all have our own individual musical idols that have inspired us in one way or another, but more recently we've been inspired by each other – we will show each other music or new artists or even something we've created – this will in turn help us to keep inspiring each other.
How will you describe your hometown Leeds. Living in Leeds, has it had an impact on your music?
Leeds is an excellent place to live. More recently its been thriving under new developments so we have a lot of additional shopping centres and food courts now open. There are also a lot of new skateboarding spots which I love! Musically, Leeds has always had a reputation for slightly darker, heavier, more psychedelic rock. A band we used to listen to and watch live all the time (Pulled Apart By Horses) really inspired us back in the day to start a band and write energetic music. We knew there would be an audience for it in Leeds so we were in the perfect place.
What do you want to say to your Swedish fans?
Sverige är det bästa landet i världen.