This year's award winner of "Female Inventor of the year" is a driven female.
In an early age she was forced to be innovative in her everyday life after losing her legs in an accident at the age of three.
She became an elite athlete at the age of twelve, at the World Championship in Colorado 1990 she won all sit ski disciplines and won an Olympic gold medal in giant slalom in France 1992, but injured her back and had to stop competing.
She then had to change her views and set new goals.
You have been awarded female inventor of the year, what does that mean?
Uppfinnarkvinna (Female Inventor) is backed by the Swedish Agency for Economic and Regional Growth, they want to emphasize and encourage women. It is meant to inspire and give investors something new.
A lot of business enterprising is still male dominated and this is something they wish to loosen up.
How did your journey with Addseat start?
I have always lived a regular life and don't want to be cornered as a mobility impaired person. This is why I was looking for a complement to my wheel chair and found a YouTube film where they had set up a wheel chair to a Segway.
And I thought I had to learn more about how a Segway worked. I spoke to a retailer who told me everything.
The driving characteristics were my main focus from the start.
With the seat attached to a rail, you can move the seat backwards and break heavily.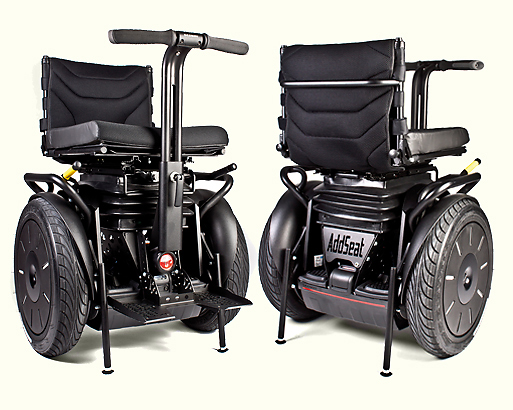 Version 1 had a detachable handlebar and support legs. She had help from the company Hedemora Anpassning.
They helped her getting started but didn't have time to continue the cooperation as their focus on adjusting cars for the disabled took all of their time. But nine of them was made and sold.
In 2012 the listed company AddMowment was founded and version 2 was launched.
This time it was the company WSM Consulting Group who was the manufacturer.
2014 they have reached 4.0. With an ascendable and submersible seat.
How did it feel the first time you tried a Segway?
It was simple and natural from the first moment I attached my seat to the Segway.
I think it's easier to sit, but you have to trust it.
To keep it balanced and that you have to be observant and lean with it.
In the forest for example you have to be adjustable as the ground is uneven.
Then you need to be careful with the curbs of the sidewalks etc.
To drive the AddSeat is similar to a sit ski. It has the same feeling of floating. I adjust and balance going over lawns, gravel and uphill… it is just like walking. The genius thing with the seat is that it is adjustable to my body and I can be in eye level with other people. It is priceless.
Since it costs a lot of money to buy an Addseat, is it possible to have it subsidized as a disabled person?
There are many that have had an electric wheel chair on prescription, left in the garage.
The AddSeat is not subsidized yet. Because it doesn't fulfill the requirements for Medical Certification.
I can see the difference between the "recent injured" and people that was born disabled.
The first category is more willing to buy what they want and they usually have a career and money to buy things, which the latter category doesn't have. So they are left with what they can get.
How has the entrepreneurship been?
It has been an incredible tuff journey, a roller coaster.
There's been many times of "I give up".
But it has always been pointing forward; the set-backs have turned into success.
Difficult to get investors. They ask the everlasting questions: how does the growth look, how great is the demand and the financial risks.
Have you thought about crowd funding?
I have looked at that but came to the conclusion that I want to try in other ways.
Apart from money I want competence and driven people.
There are actually two persons stepping in as associates soon.
Do you have any competition?
During the last three years there have been seven different competitors in Europe.
Which I see as a positive thing.
Marit have a network on her own in Germany, Austria, France and Switzerland via her retailer in Holland.
How does the future look?
I have a dream about developing other products when I have the time but at the moment, these innovations have to wait.
Right now my focuses are with the future developing of the AddSeat and have it Medical Certified.
What reactions have you received with your Addseat?
Out and about people blur out: wow, that's how to use a Segway!
Svip.se would like to thank Marit Sundin for the interview and send our congratulations to the award.