The Magnettes – a cool trio from Pajala
The Magnettes is a band from the town Pajala in northern Sweden and consists of Sanna Kalla, Rebecka Digervall and Tomas Bäcklund Thuneström. The group has had a huge success abroad, often play in England and done five tours in the US. Show cases in England, the US and in Spain amongst other places at the SXSW, CMJ, The Great Escape and Canadian Music Week. Soon to be released; their debut album Ugly Youth. We had a chat with Sanna Kalla.
How did the band come about?
Me and Rebecka have known each other since we were five years old and played together since the age of eleven. Between eleven and nineteen the two of us played in a lot of different bands and even if there were several different constellations, was both of us a part of them all. We met Tomas at the age of nineteen and begun playing together, we had already started to call ourselves Magnettes for about a year. Tomas had always been there on the side such as in the recording studio. But three years ago the three of us became The Magnettes.
We have to be quite tough, considering you've been on tour for as much as you guys have…
We are so happy about being able to tour as much as we have. We owe a lot to our management who's been working very hard for us in finding stuff all over the world. We've been to Spain, the US, Norway and Russia.
And you're off to Ireland in June…
Yes we are and we will also be going on a US tour this summer.
Pajala is a rather small town and now you will be going off on large tour. That's quite a contrast, isn't it?
Yes it is. We still live in Pajala and it's a strange feeling when we leave, because we are focusing on Magnettes, what's to be done and then we return to home with all that we need. It's a safe place to us. Quite a contrast, but nice as well.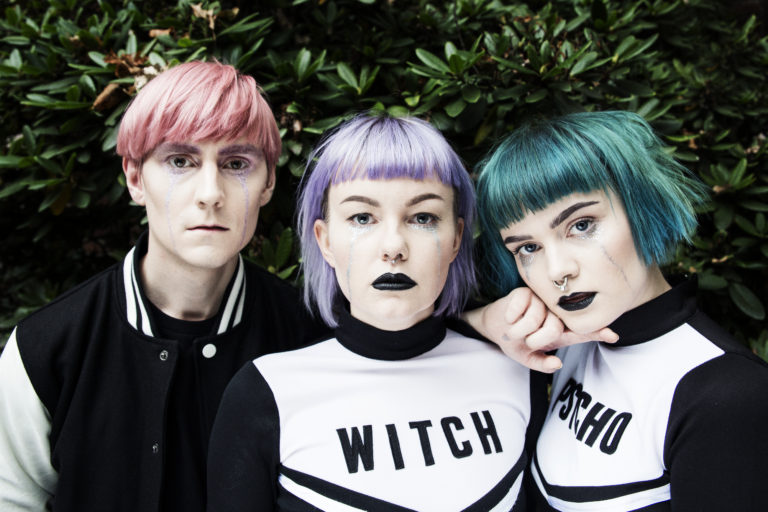 So it's a good spot to charge up your batteries for next time on the road?
Absolutely. All of our safeness is here and then we travel when we need to.
You have only released your songs digital, is that connected to your ages you think?
The songs are only released digital. During our teens one would copy the songs digital but when we were even younger, we bought the records on CD. We went to the shops with our parents and bought the CDs.
So do you remember your first CD?
I think it was Emilia with Big Big Girl…
I read somewhere that you call yourselves witches, so I wonder what do you mean by that?
On stage we have amongst other things Cheerleader dresses and on mine it says witch and on Rebecka's psycho. It kind of stand for not to strive for the perfect or nice but more like it's okay to be a freak. To be outside of the norm.
Do any of you have David Bowie as a role model?
(laughter) I don't know, not that have been said anyway…Where did you get that from?
I think you had something on your Facebook regarding his birthday and also that he was sort of theatrical and broke norms…
Right. That's something inspiring. We did a tribute concert in Stockholm at the Södra Teatern after he passed. He was kind of a freak himself, he broke the norm.
You are a little bit of punk and a little bit of pop. Would it be fair to describe your music as pop with a dash of punk?
You could say that. When Rebecka and I started, we had a punk band. The music was rawer and we had a song called, Jag skiter i dig (I don't give a shit about you). During our teens things were sadder and the songs became sadder. Right now it's sad but with a rawer tone. So we've taken back the punk and mixed it with pop. Our attitude is punk but with a mixture of glitter and pop.
So you do remind us of Bowie in the way that you change your style after your personal change, age and so on?
Right. The album we are about to release is in many ways a reflection of the past. Not literally but more like this is our first album and it feels like your first album has been written all your life.
So now one would like to leave it behind and go on with the next?
Yes, with this album we are telling the story of our past and we are all looking to the future from now on.
One used to say that the third album was the most important one but now days the singles are more important?
Yes and since we haven't released an album before, it feels a bit heavy to release so much material at once. You give everything away and then you're left feeling a bit naked.
So will the new album also only be released digital?
It's not written is stone quite yet. Naturally it will be released digital and then we'll see. The focus right now is our single Sad Girls Club which we released in January and the new album.
Sad Girls Club was a bit of a statement?
The song was a statement. That there is room for the ones who doesn't want to follow the norm. A counter-reaction to being happy and perfect. There's room for people who feel different and who wants to be sad. That's okay too.
And so Trump is different?
Why we chose that date, January 20th for our release of the song, was like a counter-reaction. Partly since it's a day when you are allowed to feel sad and think that the world sucks. He has made a lot of sexist statements. Although the song was written over a year ago. We also have a website where you can write about feeling different or being sad.
So you are hoping to support yourselves on your music?
That would be our dream; we are really working very hard. We've been told for nearly seven years that we have to move to Stockholm to be able to make it. So it's a bit of a statement to prove that you don't have to live in Stockholm to live on your music, you can actually live in the sticks in Pajala and still make it. It works well now when the Internet is available everywhere and you're able to reach people from anywhere in a simple way.
Do you have an odd or fun tour memory to share?
When we were in Russia there were a lot of youngsters who really enjoyed listening to us. They like us since we are girls and also because it's mainly old men who plays there. After the show there was a TV crew who wanted to speak to the man in charge and we tried to explain that we girls are in charge. We had a band with four guys and the TV crew kept insisting on speaking to a man. There and then we realised that it was very unusual with girls in charge in a band. They interviewed us in the end but they had to speak to the guys in the band too. Another memory is from Toronto when we stayed in a sky scrape and there was a fire. We had to run down from the 27th floor. That was a bit scary.
Was there a fire above or below your floor?
There was a fire on the 6th floor, a small fire. But when you just don't know it's frightening. We got a bit closer to each other in the band at that point.
I just have to ask if you are related to the Swedish biathlonist Charlotte Kalla?
(laughter) Me and Charlotte's sister usually say that we are related in a way but have agreed to say that we are. We are related but in a distance. Everyone is related to each other in some way up here.